The new generation of bread knives – FlexWave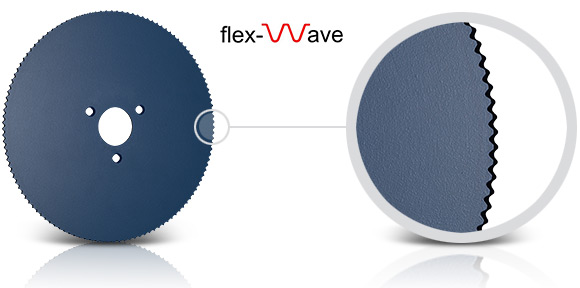 The circular knive for the industrial processing of bread
The von den Steinen company introduces a new generation of bread slicing with their Flex Wave circular knives for bread. The new Flex-Wave toothing is unique and perfectly intended for the use in the manufacturing industry for bread. Due to the special cutting shape, the lifetime of a knife can be extended up to 3 to 5 times – depending on the type of bread. As they are manufactured on most modern CNC machines, they get a very regular tooth form, which guarantees a clean cutting surface and avoids crushing of the bread. Furthermore, the toothing can be CNC regrinded, which leads to an additional lifetime.
Another new feature is the special non-stick coating "SBR-BLUE, which does not only avoid sticking of the slicing material, but also contributes to the quality of the cutting result. Due to the special high-performance coating, the use of cutting oil can be reduce up to 70% and the production cost are reduced as well.
The Flex-Wave circular knives for bread are perfect for the application in industry as well as for the use in bakeries. Of course, the knives have been attested as harmless for the food industry.